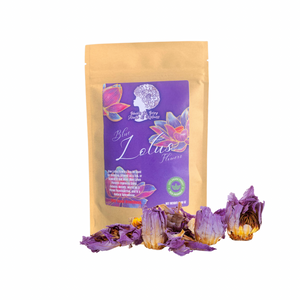 Blue Lotus Flowers (Organic)
Regular price
Sale price
$26.81
---
"Elevate your senses and embrace tranquility with our Organic Blue Lotus Flowers. Sourced from the pristine waters of ancient Egyptian and Southeast Asian locales, these exquisite blossoms have been revered for centuries for their potent natural properties.
🌼 Nature's Bliss: Blue Lotus, scientifically known as Nymphaea caerulea, has long been associated with relaxation, spiritual awakening, and inner peace. Our organic blue lotus flowers are carefully harvested and air-dried to preserve their purity and potency.
🌱 Certified Organic: We take pride in offering you only the finest quality organic blue lotus flowers. Our blossoms are cultivated without the use of synthetic pesticides or chemicals, ensuring you receive nature's best.
A Natural Elixir: Blue Lotus is renowned for its potential to promote relaxation and ease stress. Brew a soothing cup of blue lotus tea, or incorporate these ethereal blooms into your bath rituals for a rejuvenating experience like no other.
Mindful Moments: Infuse your daily routine with mindfulness as you sip on the gentle and aromatic brew of blue lotus tea. Allow its subtle, sweet notes to transport you to a realm of tranquility and serenity.
Brewing Bliss: To unlock the full potential of these organic blue lotus flowers, simply steep them in hot water or your preferred herbal tea blend. Watch as the petals unfurl, releasing their calming essence.
Spiritual Connection: Blue Lotus has a rich history in various spiritual practices. Use these sacred flowers to enhance meditation, lucid dreaming, or simply to foster a deeper connection with yourself and the world around you.
Pure Beauty: Our blue lotus flowers aren't just for consumption; they can also be used as a beautiful and fragrant addition to potpourri, decorative displays, or as an enchanting centerpiece.
Sustainability: We are committed to responsible sourcing and environmental stewardship. By choosing our Organic Blue Lotus Flowers, you support sustainable practices and the preservation of these extraordinary blooms.
Experience the Essence of Serenity: Unwind, reflect, and nourish your soul with the essence of Organic Blue Lotus Flowers. Crafted by nature and cultivated with care, they are a true gift from the Earth to elevate your well-being.
Elevate Your Experience: Elevate your senses with the exquisite beauty and natural tranquility of Organic Blue Lotus Flowers. Order yours today and embark on a journey of relaxation, inner peace, and connection.