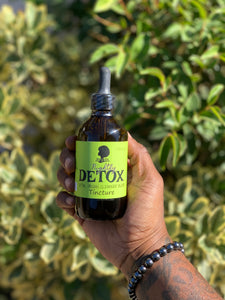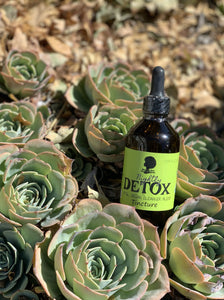 Nightly DETOX - VITAL ORGAN CLEANSE TINCTURE BLEND
Regular price
$37.00
Sale price
$35.81
---
Nighttime can be a great time to detox. The body is at rest and the organs have slowed down to regenerate from the day.

Nightly DETOX VITAL ORGAN CLEANSER TINCTURE BLEND combines five very powerful detoxifying herbs that may help to eliminate mucus, toxins, and heavy metals from the body.
Our tinctures are all-natural and 100% ALCOHOL-FREE. Blacker the Berry Tincture Blends are made using 100% Organic MCT Oil derived from coconuts.
Bladderwrack Leaf contains high levels of iodine, a trace element that supports thyroid health by producing the thyroid hormones triiodothyronine (T3) and thyroxine (T4). These hormones help regulate your metabolism and support proper growth and neurological development. Bladderwrack is also used for obesity, arthritis, joint pain, "hardening of the arteries" (arteriosclerosis), digestive disorders, heartburn, blood cleansing, constipation, bronchitis, emphysema, urinary tract disorders, and anxiety. Other uses include boosting the immune system and increasing energy.
Mullein Leaf is an expectorant, which means it helps the body expel excess mucus, usually by helping make your coughs more productive. Mullein is used for cough, whooping cough, tuberculosis, bronchitis, hoarseness, pneumonia, earaches, colds, chills, flu, swine flu, fever, allergies, tonsillitis, and sore throat. Other uses include asthma, diarrhea, colic, gastrointestinal bleeding, migraines, joint pain, and gout.
Dried Oregano is high in antioxidants and may help fight off bacteria and viruses, potentially reduce the growth of cancer cells and help alleviate inflammation. Oregano helps prevent cell damage, and it's an excellent source of fiber, vitamin K, manganese, iron, vitamin E, tryptophan, and calcium.
Dried Parsley Flakes are rich in antioxidants. Supports bone health. Contains cancer-fighting substances. Parsley is rich in nutrients that protect your eyes and improves the overall health of the heart. Parsley also has anti-bacterial properties. 
Dried Sour Sop Leaf is high in vitamin C, an antioxidant known to boost immune health. It strengthens your immune system and has been used to treat stomach ailments, fever, parasitic infections, hypertension and rheumatism. It's also used as a sedative. Soursop is able to effectively kill off multiple types of bacteria, including strains that cause gingivitis, tooth decay, and yeast infections. Boost immunity. Soursop has been shown to kill cancer cells as well as enhance a good night's sleep and reduce inflammation.
MCT (Medium Chain Triglycerides) are a particular type of beneficial fat that requires minimal action from the liver to convert directly into fuel in the form of ketones. The fatty acids contained in MCT helps to fight yeast and bacterial growth. 
Add Nightly DETOX VITAL ORGAN CLEANSER TINCTURE BLEND to your nightly routine to give your body a POWER CLEANSE and help keep your temple Mucus and Toxin Free.
Bottle Size: 4oz
*** Information and statements about the products on this site have not been evaluated by the Food and Drug Administration and are not intended to diagnose, treat, cure, or prevent any disease. You should not use the information contained here for diagnosing or treating a health problem or disease, or for prescribing any medication. We recommend that you consult with a qualified healthcare practitioner before using any herbal products, particularly if you are pregnant, nursing, or on any other medications. ***