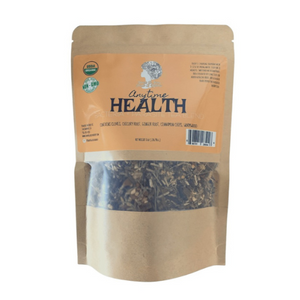 Anytime HEALTH - BACTERIA + PARASITE TEA BLEND
Regular price
Sale price
$44.81
---
So...here is the thing, we all have parasites. Or have at least come in contact with them through the foods we consume. Especially if you consume meat as part of your diet. Parasites live and breed in the flesh of the animals and when we consume the animals we also consume the parasites and bacteria living within those animals. Those parasites we've eaten do not die once they enter our bodies. In fact, it is the exact opposite. THEY LIVE and not only do they live but they also multiply. 
Scary to think of right?
The good news...Nature has a Remedy. 
The remedy is the food, the vitamins, the minerals, and the nutrients that we consume.
Blacker the Berry Health & Wellness has researched and gathered some of the op bacteria and parasite eliminating herbs and put them into a tea blend that helps to remove Bacteria and Parasites and restore balance to your health.
Anytime HEALTH Bacteria + Parasite Tea Blend contains the following;
Cloves are rich in important nutrients and are high in antioxidants. Cloves may help to protect against cancer and help to kill bacteria that live in the body. Cloves may also help to regulate blood sugar and may improve liver health. They may also help to reduce stomach ulcers. 
Chicory Root reduces the absorption of glucose in the intestines. Increases beneficial bacteria and reduces pathogenic bacteria. Chicory Root assists with weight loss promote healthy digestion. It helps prevent and manage diabetes. Inhibits Cancer growth and improves brain health. 
Chicory root has a mild laxative effect, increases bile from the gallbladder, and decreases swelling. Chicory is also a rich source of beta-carotene.
Ginger Root 
stimulates digestion, lowers blood pressure, reduces nausea, reduces inflammation. Ginger Root has antibacterial properties, regulates blood sugar, and reduces menstruations pains. 
Cinnamon Chips 
are very rich in powerful antioxidants. It is anti-inflammatory, anti-fungal, and anti-bacterial. May reduce the risk of heart disease and heart failure. Cinnamon also has medical properties proven to fight cancer, lower blood sugar levels, and has a powerful anti-diabetic effect.
Wormwood is used for various digestion problems such as loss of appetite, upset stomach, gall bladder disease, and intestinal spasms. Wormwood is also used to treat fever, liver disease, depression, muscle pain, memory loss, and worm infections; to increase sexual desire; as a tonic; and to stimulate sweating.
Add Anytime HEALTH Bacteria + Parasite Tea Blend to your daily routine and help restore your digestive system to optimal health. 


*** Information and statements about the products on this site have not been evaluated by the Food and Drug Administration and are not intended to diagnose, treat, cure, or prevent any disease. You should not use the information contained here for diagnosing or treating a health problem or disease, or for prescribing any medication. We recommend that you consult with a qualified healthcare practitioner before using any herbal products, particularly if you are pregnant, nursing, or on any other medications. ***