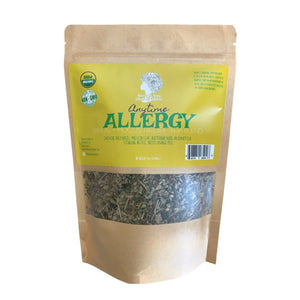 Anytime Allergy - SINUS + MUCUS RELIEF TEA BLEND
Regular price
Sale price
$35.81
---
Sinus infections and sinus headaches often come hand in hand with nasal, ear, and throat allergies. Anytime Allergy - Sinus + Mucus Relief Tea Blend is the perfect tea for when your sinuses are acting up – whether it is from the onset of a cold or allergies due to dust pollen that triggers your immune system. 
Anytime Allergy - Sinus + Mucus Relief Tea Blend is a delicious and effective way to help soothe allergy symptoms, with the benefits of Holy Basil, Mullein Leaf, Butterbur Herb, Rosemary Leaf, Stinging Nettle, and Dried Orange Peel, the Anytime Allergy - Sinus + Mucus Relief Tea Blend provides all-natural relief of sinus and mucus symptoms such as stuffiness, runny nose, sneezing, and congestion.  
This herbal blend fights congestion while soothing allergic reactions like redness and dryness. It also helps reduce mucous-producing cells in the respiratory tract to help alleviate mucus buildup and eliminate excess mucus from the sinuses and lungs. Anytime Allergy Sinus + Mucus Relief Tea Blend is a homeopathic combination designed to relieve the symptoms of allergies, sinusitis, colds, and coughs such as runny nose, nasal discharge, wheezing, post nasal drip, and nasal congestion.
The Anytime Allergy - Sinus + Mucus Relief Tea Blend contains:
Holy Basil - Reduces inflammation, lowers cholesterol, ease joint pain, protects the stomach, lower blood sugar, protects against infection. high in vitamins A and C, calcium, zinc, iron, and chlorophyll.
Stinging Nettle - High in vitamins A, C, K and several B vitamins, packed with minerals, like calcium, iron, magnesium, phosphorus, potassium and sodium, rich in amino acids, reduces inflammation, treats enlarged prostate, treats hay fever, lowers blood pressure, aids in blood sugar control, natural diuretic, supports liver health.
Mullein Leaf - Natural expectorant, detoxifies the lungs, supports respiratory health, anti-inflammatory, anti-viral, antioxidant rich, anti-bacterial, anticancer.
Butterbur Herb - Treats seasonal allergies, relieves migraines, reduces asthma symptoms, protects the brain, promotes heart health, decreases inflammation.
Rosemary Leaf - Improves cognitive function, may have anti-cancer properties, helps reduce stress, improves hair and skin health, reduces (Menstrual) pain. Treats respiratory issues.
Dried Orange Peel - Manages diabetes, augments cardiac health, improves digestion process, prevents cancer, promotes lung health. Aids in weight loss, relieves severity of allergies. Boosts the immune system.
The Anytime Allergy - Sinus + Mucus Relief Tea Blend will help to support your body's natural ability to fight the symptoms of seasonal allergies and colds. This blend contains a variety of herbs that have been traditionally used for ages to support a healthy respiratory system and sinus passages.
*** Information and statements about the products on this site have not been evaluated by the Food and Drug Administration and are not intended to diagnose, treat, cure, or prevent any disease. You should not use the information contained here for diagnosing or treating a health problem or disease, or for prescribing any medication. We recommend that you consult with a qualified healthcare practitioner before using any herbal products, particularly if you are pregnant, nursing, or on any other medications. ***